Booking

BOOKING INFORMATION
You may book up to 2 units of accommodation per booking when they go on sale. Car parking tickets will also be available to book when making an accommodation booking. Please note that if you are staying at Worthy Pastures and wish to arrive by car, you must buy a Car Park Ticket .
When booking, you will be asked to supply the names of each person staying in your accommodation. Guests will be asked to indicate arrival times in a preferred 2–3-hour arrival window when they are making their campsite booking.
Having booked accommodation via See Tickets, you will receive a confirmation email to confirm your reservation within 24 hours, you will be sent your e-ticket (required for check-in) up to 7 days prior to arrival, confirmation of your tent allocation (field and number) will be sent a couple of days ahead of your check-in.
Should you wish to cancel your booking, you may do so up to 14 days prior to your scheduled arrival after which time your reservation will be non-refundable. All cancellations will incur a £25 administration fee per tent. Booking amendments may also be subject to a £25 admin fee.
See Tickets is the only company permitted to sell accommodation for Worthy Pastures. No other site or agency will be allocated accommodation. Any other company or individual claiming to sell official Worthy Pastures accommodation is bogus.
There will be no sales or booking of pitches in person or 'walk up' sales.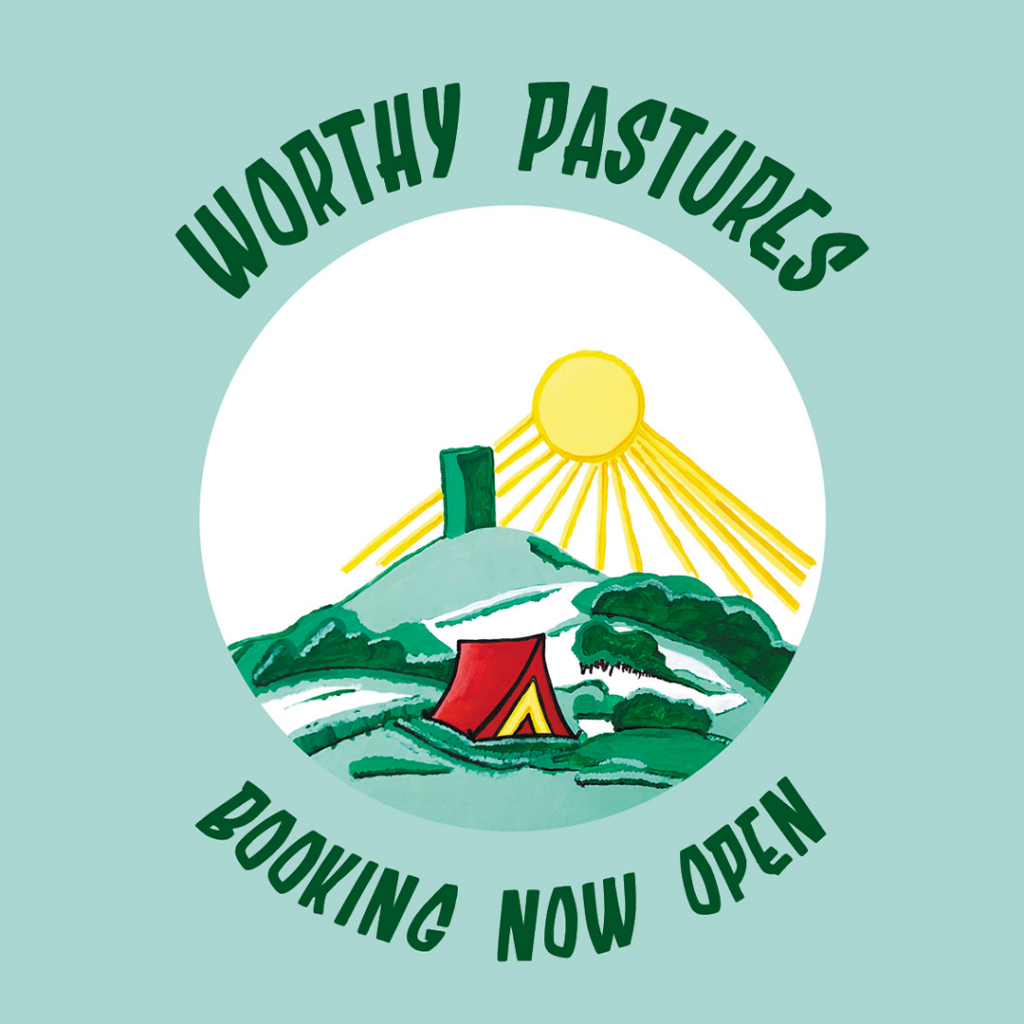 BOOKING ENQUIRIES
All bookings are taken by See Tickets. Worthy Pastures does not have access to See Tickets' booking system or individual booking information, so if you have an enquiry specific to your booking, then please contact See Tickets via the order tracker
Once you have booked your accommodation, you can also access information regarding your booking online here using your booking reference number and email address or postcode.
If you require general information about the campsite (that isn't related to a specific booking), please find the information in this page. If you cannot find the information you require here, please contact us on info@worthypastures.com  and we will be able to assist you with general information about Worthy Pastures.
BOOKING REFUND PROTECTION
Bookings are refundable (minus an admin fee of £25 per unit) up to 14 days prior to your booked arrival date.  TicketPlan's Refund Protection  is available when making your booking.
Refund Protection provides cover for a range of unforeseen circumstances that may prevent you from being able to stay in the accommodation you have booked after the 14 day cancellation period.
A summary of the Terms and Conditions can be found on the ticket plan site. Please note that the Refund Protection offers cover for your accommodation only in event that the lead booker is unable to attend. The price of TicketPlan Booking Refund Protection is dependent on the type of accommodation booked. For full details please see the TicketPlan Booking Refund Protection Summary.
The TicketPlan Booking Refund Protection fee you pay depends on the type of tent you book, and the duration of your booking. A summary of the fees can be found below: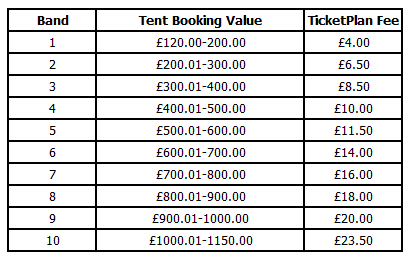 WORTHY PASTURES CAMPSITE BOOKING TERMS & CONDITIONS
In making an accommodation booking Worthy Pastures you are agreeing to the code of conduct laid out by Glastonbury Festival Events Ltd (hereafter "the Campsite Management") and the below terms. You also agree that you and all guests in your party will behave responsibly at Worthy Pastures and not cause any nuisance to other guests or the Worthy Pastures campsite staff. By making this booking, you acknowledge your agreement to the following terms:
Bookings are refundable up to 14 days before the stated arrival date. Any cancellations prior to 23:59 14 days prior to arrival will incur a £25 administration charge per unit. After 23:59 14 days prior to the stated arrival date no refunds will be made other than in the event of the closure of the campsite. Ticketplan Cancellation Protection will be available when booking, however you might consider it prudent to take out travel insurance independently to cover the value of your booking.
Check in is open from 1pm for arrivals on Wednesdays, and 11am for arrivals on Thursdays and Fridays. Please don't arrive before this time, and instead arrive within the time slot you requested when booking. All tents and campervan pitches must be vacated by 11am your stated departure date.
The accommodation booking is only valid when booked directly with official agents. Names of all accommodation residents must be supplied when booking, with final confirmation due no later than 14 days prior to the stated arrival date. Bookings are personalised to the lead booker named on the booking confirmation and may not be:
a. sold or transferred to another person; or
b. used by any person for promotional purposes, including as a prize or other reward in a competition or lottery, except with the prior written permission of the Campsite Management.
c. purchased by an agent on behalf of his or her principal.
The Campsite Management reserves the right to refuse admission in any circumstances. To facilitate the security, safety and comfort of all guests, the Campsite Management may refuse entry to anyone who attempts to enter Worthy Pastures with prohibited items. The Campsite Management reserves the right in its sole discretion to remove without notice any guest(s) who are engaged in anti-social behaviour or are rude or abusive to other guests or the campsite staff. Please refer to www.worthypastures.com for information on articles which will not be allowed onsite.
Admission to "Worthy Pastures" is at guests' own risk. The Campsite Management will not be held liable for any loss, injuries or damages sustained or incurred at the event including damage, theft or losses to property and motor vehicles, if the cause is due to the negligence of the guest or the actions of other patrons or third parties or force majeure.
Where a booking has been obtained by a person in breach of these terms and conditions, the Campsite Management's obligations in relation to the booking will cease to have effect immediately, in particular, any person other than the lead booker presenting the booking confirmation may be refused entrance to, or removed without notice from Worthy Pastures, and the accommodation booking withdrawn and there shall be no obligation on the Campsite Management to refund any monies paid for the booking.
Strictly no trading or other commercial activity at Worthy Pastures without the Campsite Management's prior written consent. Please note the Campsite Management will charge a fee for any commercial activity (including filming, photography and recording) onsite.
Accommodation at Worthy Pastures cannot be used as part of any marketing, media, sales promotion, staff reward programme or general competition use whether commercial or non-commercial without prior written permission of the Campsite Management. The marks Glastonbury, Glastonbury Festival, the Pyramid Stage and the Glastonbury Festival logo are registered United Kingdom and European Community trademarks and may not be used without the express written permission of Glastonbury Festival Events Ltd.
As a condition of booking, guest(s) consent to being filmed by onsite CCTV cameras and recordings for security purposes.
Wristbands must be worn at all times. Those without wristbands will be refused admission to the site or may be removed from the site. For security purposes all wristbands remain the property of the Campsite Management until 11am on the day of departure from the campsite.
The lead booker accepts liability for any loss or damage to structures incurred during the hire period which is considered by the management to be more substantial than general wear and tear.
Anyone under the age of 16 must be accompanied by a responsible adult (aged 18 or over, who would usually be the parent, carer, legal guardian or other adult entrusted with the care of that child) who accepts full responsibility for all under 16s attending under their supervision.
Pitches are allocated on a first come first served basis. Where possible the Campsite Management will endeavour to meet requests for friends and family groups to be located together if booking the same accommodation type, however this service cannot be guaranteed
Only the pre-erected camping facilities provided by the Campsite Management, and pre-booked campervans, are permitted on the campsite. Please do not attempt to pitch additional tents or tamper with or attempt to relocate the pre-erected facilities. Any unauthorised tents will be taken down and confiscated by the campsite staff and may not be returned. Gazebos, windbreaks, and additional awnings will be permitted at the discretion of the Campsite Management, but must not restrict access to other guests' accommodation, pedestrian walkways, access routes or fire lanes. Any items obstructing access will be removed.
All Cars require a separate car parking ticket, specific to the duration of the accommodation booking, which must be bought in advance.
Only pre-booked campervans are permitted on the campsite. Caravans and other vehicles are not permitted at Worthy Pastures.
No vehicles are to be parked or tents pitched in the fire lanes at any time.
No trading or sound systems of any kind are permitted, other than those provided by the organisers. Anyone found operating such systems may be liable to confiscation of the system and the guest removed without notice. The Campsite Management accepts no responsibility for goods or services purchased from third party traders.
Fireworks, Chinese/flying lanterns, drones, flares, the burning of plastics, generators, potential weapons, portable laser equipment including laser pens or any illegal or offensive items or substances are not permitted at Worthy Pastures, and will be confiscated. Tents and vehicles are liable to search by security staff. Any items which the organisers consider may be used in an illegal or offensive manner shall be confiscated.
Access to attractions (e.g. the Kids Ship, Kidz Castle, Dragon Field) are during daylight hours only.
Large group bookings are welcome, however please bear in mind this is a family focused campsite, and is not suitable for stag/hen/raucous gatherings.
No animals are permitted onsite, with the exception of registered guide dogs.
All litter must be cleared and put into recycling bins or litter bins as applicable.
Small campfires and BBQs are permitted as long as they are off the ground and must be a safe distance away from any tents or other structure.
Please use the toilets and urinals and do not pollute the land, streams and hedges. Please do NOT bring your own toilet tent.
To protect your own safety and those of other guests, please act responsibly.
The Campsite will conform to all relevant HM government COVID legislation and visitors will be required to comply with the Campsite COVID rules and policies which may change depending no the  time of visiting.
There may be a chance that some activities and infrastructure may still not be as freely available as we'd like by mid-July.
It is important to us that Worthy Pastures be accessible to all. If you have any specific accessibility concerns, please contact us on info@worthypastures.com
Smoking is not permitted in enclosed public areas, including all types of accommodation and facilities at Worthy Pastures.
Carbon Monoxide (CO) is a colourless, odourless, highly poisonous gas that can kill in minutes. Carbon Monoxide poisoning can be caused by ANY fuel that burns or smoulders. Do not take a lit or smouldering BBQ or gas camping stove into your tent or accommodation unit.
Worthy Pastures operates a 'Challenge 21' policy for alcohol sales. If you look under 21, you will not be served alcohol unless you can prove you are over 18 – by presenting valid, government approved photo ID.
CAMPERVAN TERMS & CONDITIONS
Only vehicles with fitted sleeping, cooking and or washing facilities may use these fields.
A maximum of one campervan may be parked in each approximate 7m x 8m pitch.
Users of these fields must not inconvenience local residents by trying to use the village for access. This will not be permitted. Please stick to signposted routing.
Please respect the Countryside Code at all times.
Security staff may evict those that do not adhere to the conditions above.
Campsite Management accept no responsibility for any loss or damages to campervans (whether hired or privately owned). Any insurance or deposit claims arising from your campervan use at Worthy Pastures should be directed to your insurers or campervan Hire Company.
Whilst every effort will be made to accommodate campervans, the Campsite Management reserves the right to provide alternative facilities in the event of adverse conditions.