Facilities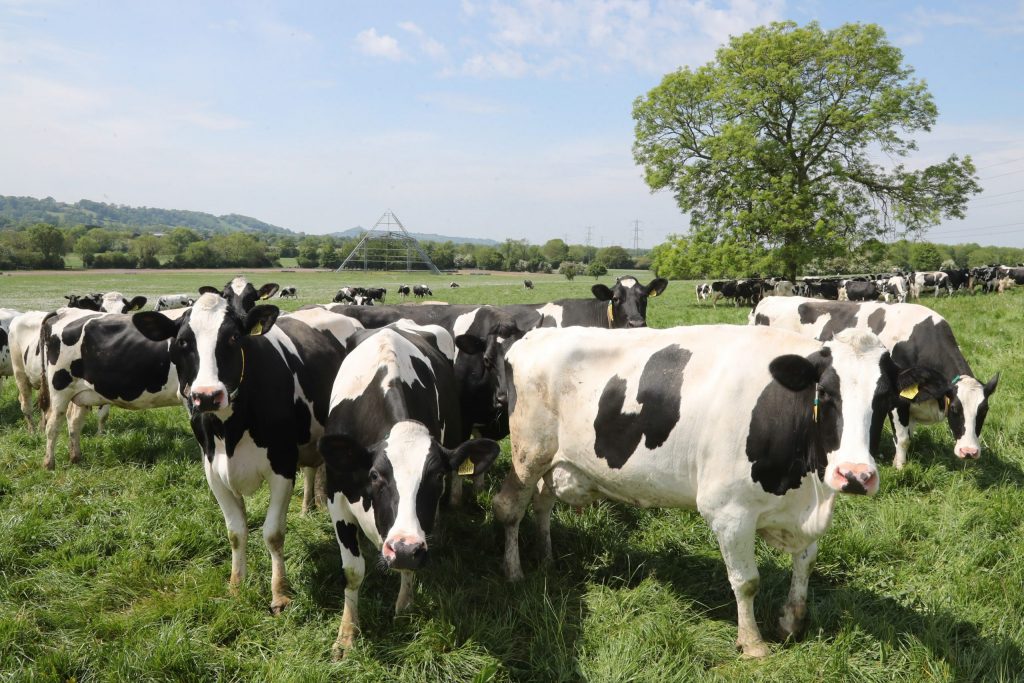 THE FARM
Tents will be spread across Worthy Farm, with William's Green acting as a central hub, offering an area for takeaway food options, a licensed bar, and a village store selling essentials.
There will be campsite hubs around the site each with a manned property storage/lockup area. We don't advise bringing valuables, but lockups will be accessible during daylight hours for small items. Campsite Hubs will be staffed 8am – 8pm. They will be staffed with knowledgeable, useful people, so visit them for more information about the campsite, to pick up another map or just for a chat if you're looking to plan your stay once you've arrived.
Campers are free to roam around the designated site and to the boundaries of the farm to walk, cycle and enjoy the natural landscapes and elements of the site.
Guests will have use of the existing family friendly visitor attractions on the site such as:
Pink Kidz Castle
Cadmus Kids Play Ship
Stone Circle
The Dragon
The Beehive
A programme of additional activities for all the family will be announced on a weekly basis. Please visit the campsite hubs on arrival for more information.
Small fires in braziers are permitted in the campsite, and we will be lighting communal fires in Kings Meadow and Williams Green if you'd rather not have to manage your own.
Please take note before booking that no amplified live entertainment will be offered at Worthy Pastures.
JOINT CHARITIES FIELD
We're pleased to have Glastonbury's three main supported causes, Oxfam, Greenpeace and WaterAid joining us onsite at Worthy Pastures, hosting the Joint Charities Field, with a shared focus on tackling climate change.
With an onsite shop stocking campsite essentials promoting reuse and a packed programme of engaging onsite activities relating to sustainability protecting the environment.
Visit the Joint Charities Field to find out more!

FOOD & DRINK
At Worthy Pastures we want all our campers to experience the foody delights usually on offer at the main Festival. From sustainably-sourced – and heartily sustaining – full English breakfasts to vegan burritos and stone-fired pizzas, we have invited some wonderful, longstanding Festival food traders who will be serving-up exciting food for the whole family to enjoy.
The onsite bar will offer a range of drinks to suit all tastes, with a variety of local cider, lager, ales, wine and spirits so whether your favourite tipple is a pint, a Pimms and lemonade or a G&T we have you covered.
A range of essential items such as milk, snacks, toiletries, drinks, and tobacco products can also be purchased from our onsite village shop, Tom The Shop.
Here are a few of the hand-picked Glastonbury Festival stall-holders you'll find on site:
Coffeebox
Perfect for your early morning wake-up call or mid-afternoon pick-me-up, this local family business are Glastonbury Festival stalwarts and have been serving-up speciality, ethically-sourced organic coffees, teas and hot chocolates and iced drinks on these fine fields since 2017. Pop down to their converted 1960s caravan for your cuppa and grab yourself a loaded crumpet, pastry or sustainably-baked artisan cake. Sightseeing tips gladly offered on request.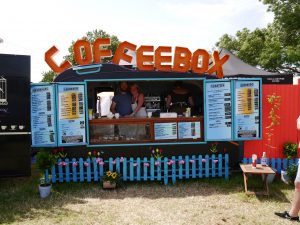 Shepherds Ice Cream
Based in Herefordshire, a stone's throw from the Welsh border, Juliet and Martin and their happy crew are fine purveyors of delicious sheep's milk ice cream; churning-out and serving-up fab flavours of their ewe-derived wares at Glastonbury Festival since 1992. The milk from their ever-growing flock is naturally thicker, creamier – and lower in fat – than cows' milk making a scoop an unmissable treat.
Visit website
Tom The Shop
Welcome to Worthy Pastures' well-stocked general store. Here you'll find everything from everyday groceries and essentials to camping supplies, tobacco / vape and treats. Tom's team have been running on-site festival stores for over a decade. Not only will a visit here save you a trip off-site, but there's a good chance they know what you need better than you do.
Visit website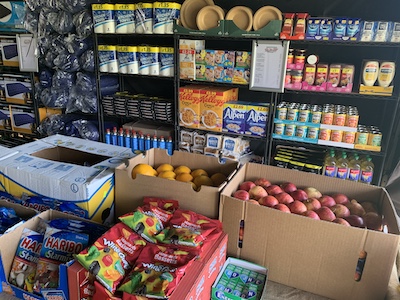 Field To Fire
Regulars on the local foody circuit, Field to Fire have been impressing palates and sating appetites on these fields through monsoon and heatwave. Their super thin and crispy pizzas come with a Somerset twist and are freshly baked to order in their nifty wood fired oven.
Visit website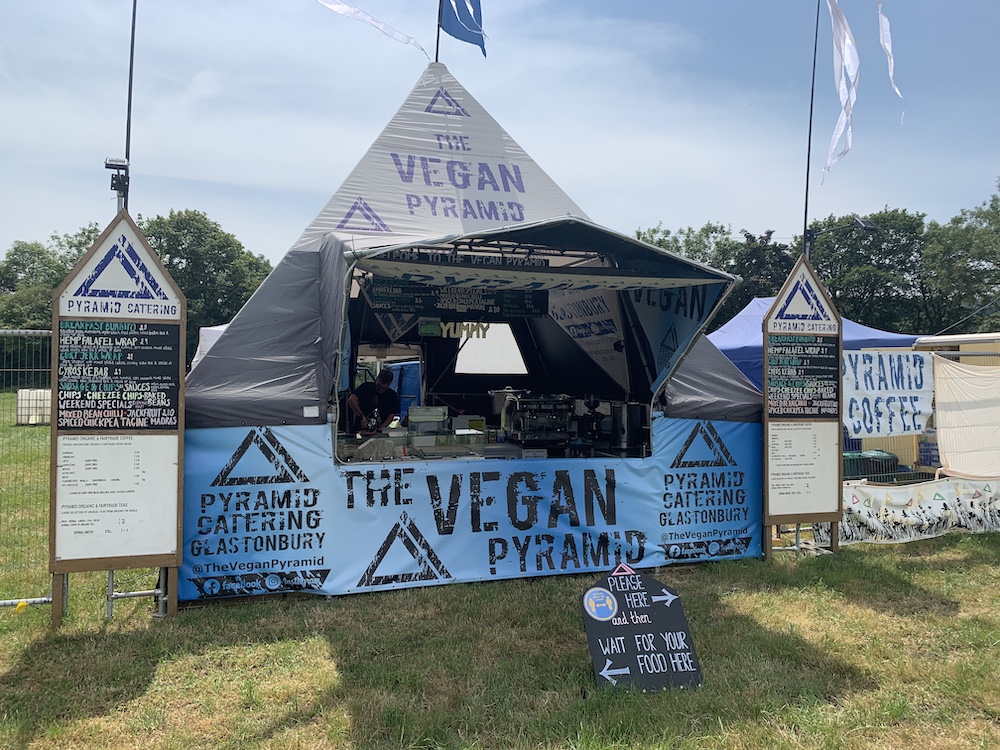 Vegan Pyramid
Matt and his award-winning festival family are no strangers on these fields and have been serving-up their tasty plant-based meals at Glastonbury Festival since 1987. Their adventurous vegan menu takes in everything from comforting street food mainstays to new vegan food trends as well as delicious sweet and savoury baked goods, fresh from their Glastonbury-based bakery. All served with optional side-orders of festival folklore.
Visit website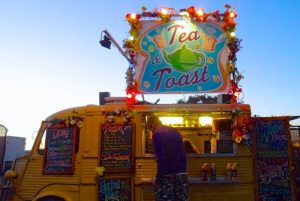 Tea and Toast
Tea and Toast, as its name suggests, is all about comfort food. It is the physical and gastronomical representation of founder Ben's favourite Glastonbury moments: the crackling stillness as dawn breaks and birdsong replaces the beats of the night before. His smiley van and creative menu – featuring cheese toasties, round sausage rolls, and of course the eponymous tea and toast – aims to feed your soul and elicit true contentment. Come, feed your family and feel at home on holiday.
Visit website
Nelly's Barn
This old queen of a food truck had a previous life gathering sheep wool in the Pyrenees. Parts of her are three hundred years old; fused together with rescued oak and handmade blacksmith's nails. But here, in her new incarnation, she serves the finest local West Country-sourced burgers: dry-aged Somerset beef topped with melted cheese from the Cheddar Valley.
Visit Facebook
The Cheeky Bean
Using only locally-roasted beans and Somerset-sourced diary, this fabulous local Shepton veggie/vegan cafe boasts a top-notch brunch and the best espresso this side of Italy. Head over to Mandeep – their roaming Indian Coffee Tuk Tuk – for an energising caffeine fix or smoothie and treat yourself to one of their fine homemade cakes.
Visit website
WATER
In line with our environmental policies, single-use plastic drinks bottles will not be available to purchase onsite.
Our partners Greenpeace estimate that, globally, up to 12.7 million tonnes of plastic end up in our oceans each year. Greenpeace advise that by far the best way to avoid plastic pollution is to reduce plastic usage.
For those wishing to drink water – which we certainly do recommend! – we encourage you to use a reusable water bottle and refill it at any of the free water taps around the site. We have a mains water supply from Bristol Water, with water of the same quality as your taps at home.
Our stainless steel reusable bottles are available to pre-order from See Tickets when booking your accommodation, for collection on site, and will also be available to purchase from the shop in the Joint Charities Field, which will be open from 9am – 9pm daily.  £2 from each sale will go to WaterAid and help bring clean water, decent toilets and good hygiene to everyone, everywhere.
Free drinking water will also be available from the bar, meanwhile, canned soft drinks and canned Life Water will be available to purchase from the onsite food traders. Whilst you will not be prevented from bringing plastic bottles on to the site, we strongly encourage everyone to join the effort by bringing as little single-use plastic as possible.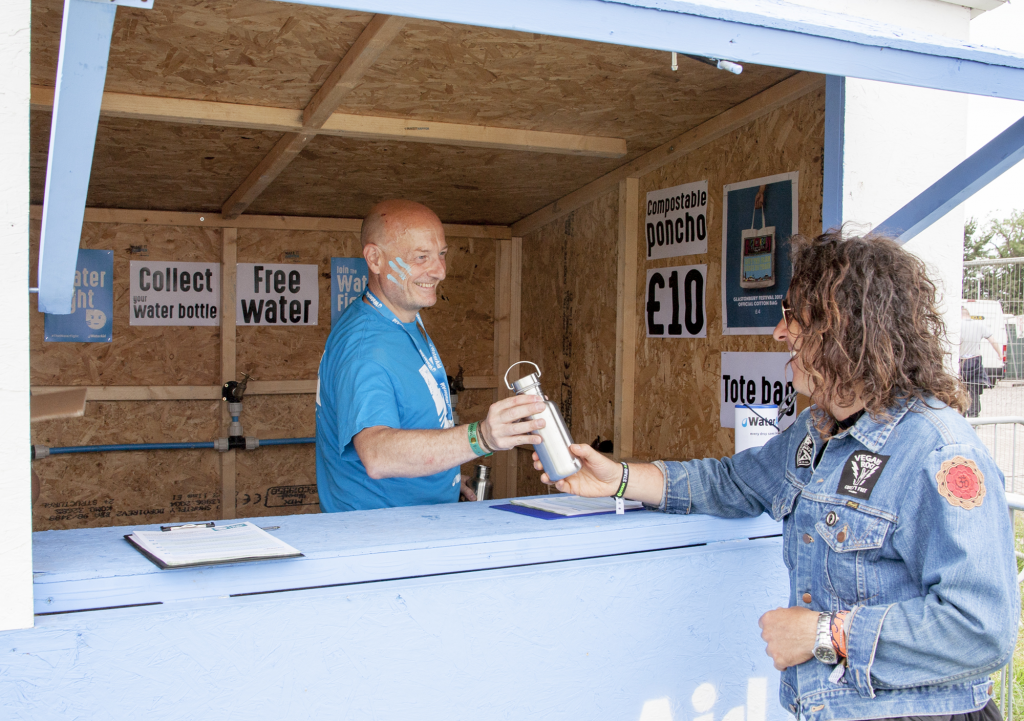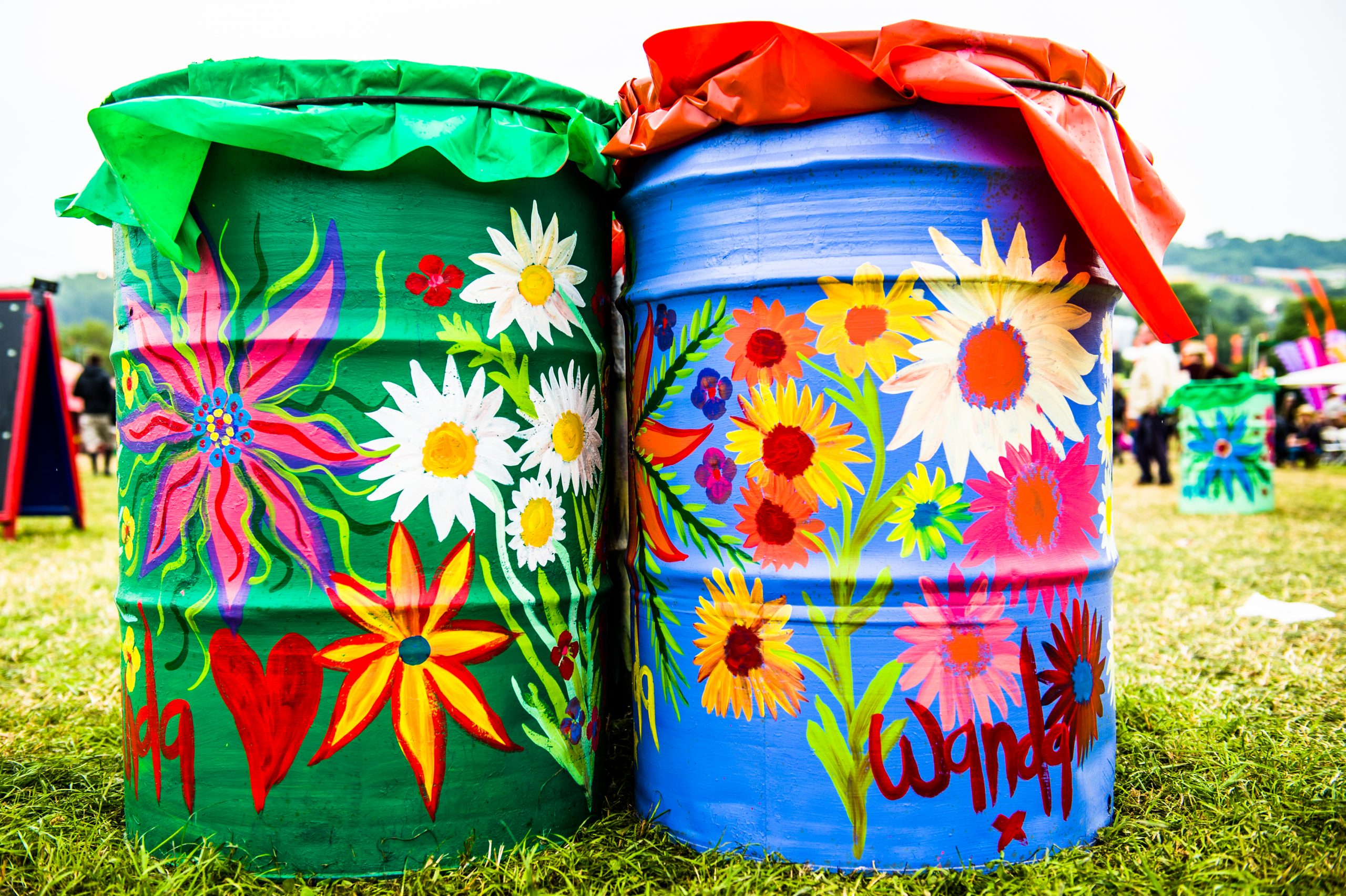 SITE FACILITIES
At every shower block there will be hot water washing up stations and every field will have drinking water stand pipes.
Please note, there are no laundry facilities at the campsite – so you should pack accordingly and be prepared for all weather types!
We very much encourage you to recycle your waste while you stay with us and recycling stations will be positioned around the campsite.
Pets are not permitted at Worthy Pastures this summer as the cows will be out in some fields near to the campsite.
Car and motorcycle parking will be provided in walking distance from the accommodation.
There is also an allocated drop off/taxi area. Please see getting here for more information.
A cash machine will be available should it be required during your stay.
Please visit the FAQ page for further useful information such as on what to bring.
Compost toilets will be in easy reach of all camping fields and an adequate provision of individual showers will be provided at allocated locations around the site. Toilets and showers will be cleaned at regular intervals and sanitised according to current legislation. Please do not bring your own toilet tent, to put up outside your tent, you will be asked to remove it.
Site maps
SITE MAP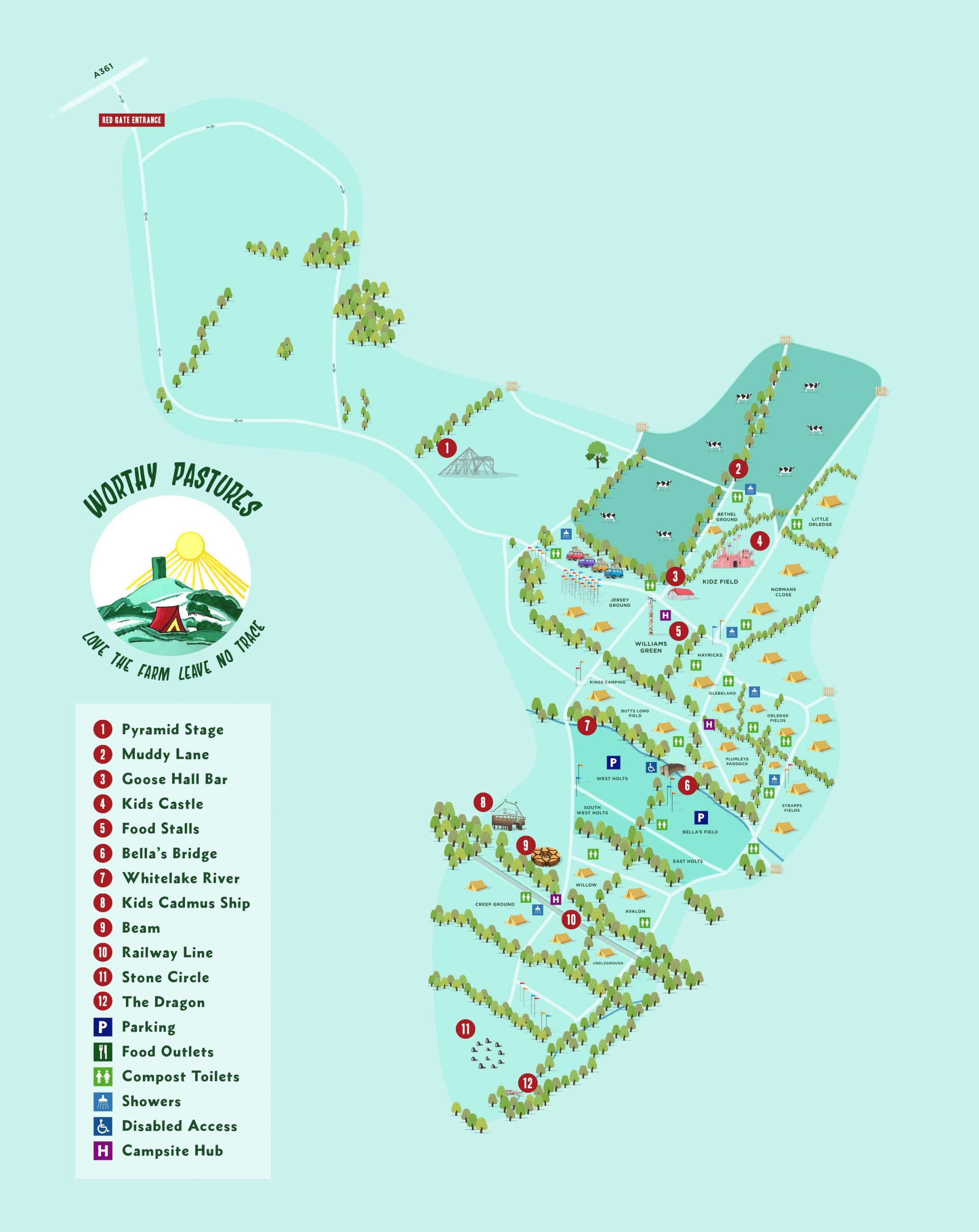 CAMPING MAP