Frequently
Asked Questions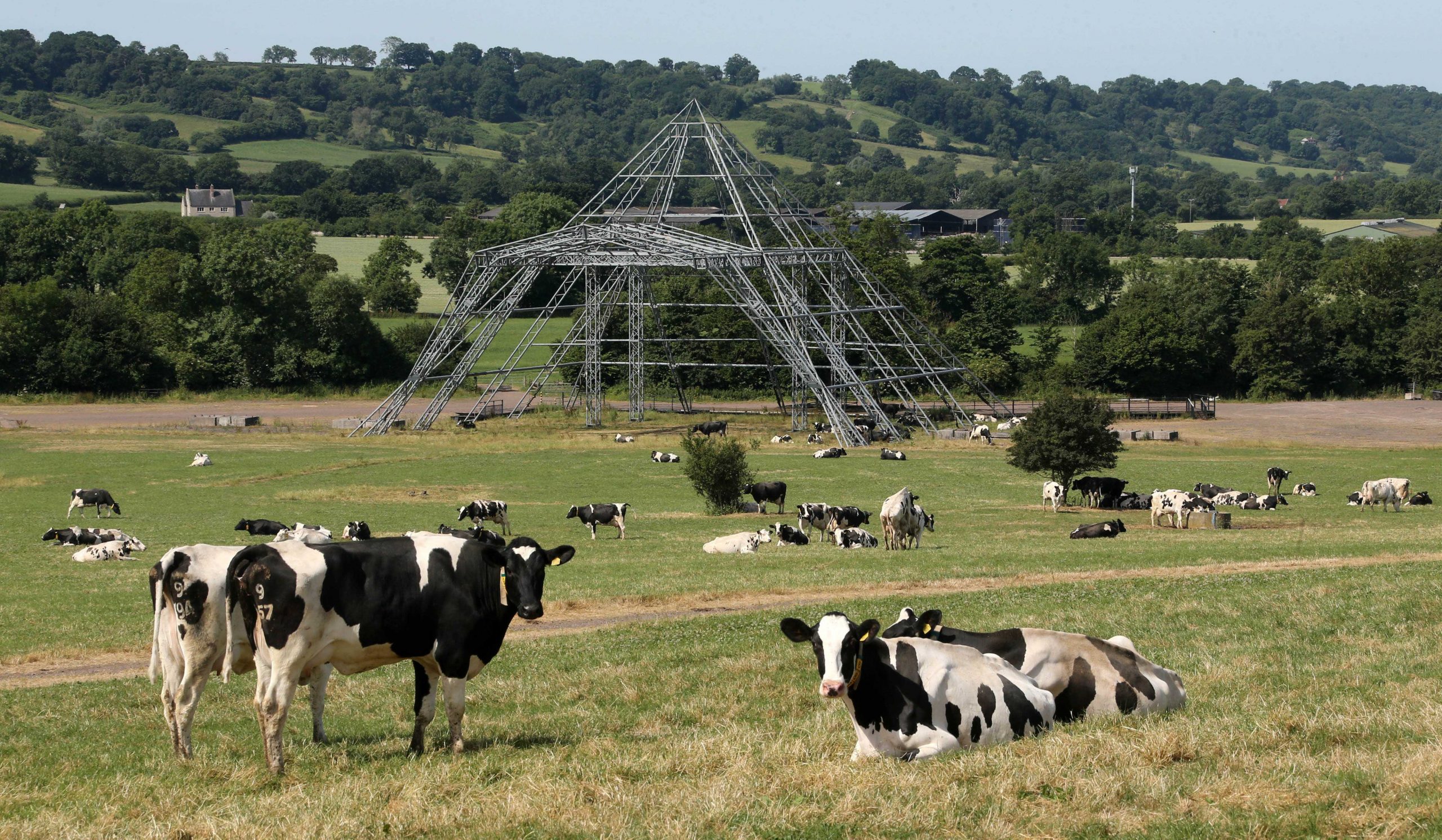 WHERE IS WORTHY PASTURES?
This family friendly, pre-erected campsite on Worthy Farm, home to Glastonbury Festival, will feature tents spread across the farm, with a central village green at Williams Green, please see the site map for further information.
Vehicle access to the Worthy Pastures car park is via the A361. Please see getting here for further information.
Campers will be issued with a wristband on arrival which must be worn at all times.
WHEN IS WORTHY PASTURES OPEN?
Bookings are available for 3-, 4-, or 5-night stays each week, between Wednesday and Monday, from late July through to the end of August.
Extended stays of 4, 5 or 6 nights are available over the August Bank Holiday Weekend (with check out on Tuesday).
CAN WE BRING OUR OWN TENT, CAMPERVAN OR CARAVAN?
No, sorry – Worthy Pastures is a pre-erected campsite, you must book one of the pre-erected tents if you would like to stay, you will be asked to remove any tents that are put up unauthorised on the campsite. No sleeping is permitted in any vehicles in the carparks.
IS WORTHY PASTURES SUITABLE FOR CHILDREN?
Yes, absolutely. We have developed Worthy Pastures with families in mind. We hope Worthy Pastures will provide the perfect base camp for your family break. Of course, children do remain the responsibility of the adults they came with! Worthy Farm is a working farm and therefore children aged 12 or younger should be accompanied at all times.
CAN WE MAKE A GROUP BOOKING?
You may book up to two units of accommodation per transaction. If you would like to group more than 2 tents together (of the same type) please include a shared group name in each booking you make. Where possible we will endeavour to meet requests for friends and family groups to be located together if booking the same accommodation type, however this service cannot be guaranteed.
Worthy Pastures will provide the perfect base camp for a family break. Whilst we welcome groups (Covid regulations permitting) the focus is on providing a safe, comfortable and relaxed family environment, and is not suitable for stag/hen/raucous gatherings, and you may be asked to keep noise to a minimum after 11pm by the campsite stewards. Please note – no amplified live entertainment will be offered.
WHEN CAN WE CHECK-IN AND CHECK-OUT OF WORTHY PASTURES?
Check-in is open from 1pm on your stated day of arrival. Please don't arrive before this time, and instead arrive within the time slot you requested when booking. All tents must be vacated by 11am on your stated departure date.
WHAT ACTIVITIES CAN WE EXPECT ONSITE?
Campers will be free to roam around the designated site and to the boundaries of the farm to walk, cycle and enjoy the natural landscapes and elements of the site.
 No amplified live entertainment will be offered; however, guests will have use of the existing family friendly visitor attractions during daylight hours, such as;:
Kidz Pink Castle
Cadmus Kids Play Ship
Stone Circle
The Dragon
The Beehive
A programme of activities will be published on a weekly basis as campers arrive, including for example yoga, face-painting, or painting a Glastonbury Festival Bin.
For more information on things to do in the local area, do head over to Somerset's Official Tourism Website
Please note, there may be a chance that some activities and infrastructure may not be as freely available as we'd like by mid-July.
WHAT DO WE NEED TO BRING WITH US?
Only bring what you really need.
However you arrive, you'll inevitably have to carry your stuff to where you camp. And as part of our Love Worthy Farm, Leave No Trace campaign we'd definitely encourage you to only bring things which you can take home
Roll mat / inflatable mattress – the tents come unfurnished
Sleeping bag / Bedding / Pillows
A torch – whilst festoon will light the main paths, Worthy Pastures will have less ambient light than the Festival
A reusable water bottle, to fill up from the drinking water taps on site
Wellies or sturdy boots in case of poor weather
Toilet roll
Warm and waterproof clothing (it can get cold at night) and there are no laundry facilities at the campsite
Sun tan lotion
Field games (there is plenty of space in the fields for gentle games like badminton, cricket, football etc)
ID – Original ID documents (not photocopies) are needed for Challenge 21
Face covering / mask, if required indoors by current Covid-19 regulations.
Hand sanitiser
REUSE, REDUCE, RESPECT. In a stand to make our world more sustainable, we ask you to avoid single-use items and opt for reusables options where ever possible and help us look after the land on which the farm stands.
DO WE NEED TO BRING ID?
Only the lead booker may be required to show valid photo ID to check in your group.
The onsite bar has a challenge 21 policy. If you appear to be under the age of 21 you will need to show valid photo ID to be served alcohol.
WHAT CAN'T WE BRING WITH US?
Please do not bring more than you need. Remember you'll need to take all it home again
Only bring food and alcohol for personal consumption
Please avoid the use of disposable wipes. Wipes – even biodegradable wipes, which quickly breakdown into micro-plastics – are problematic environmental pollutants. Plant fibre-based biodegradable wipes release greenhouse gases when they decompose, so we would like people to really try to use alternatives. A washcloth and a bar of soap works wonders!
Please do not bring any of these prohibited items:
No animals (except registered guide dogs)
No generators
No drums
No nitrous oxide (laughing gas). As a contraband good, under the Psychoactive Substances Act 2016, and as a source of littering, this substance is not permitted on site
WHAT IS THE BBQ AND FIRE SAFETY POLICY?
We allow BBQ's and fires as long as they are off the ground. Small fires in braziers are permitted at your tents.
Please be careful not to keep your fire too close to the tent and avoid lighting fires in windy conditions. Small embers could easily burn the tents canvas which would result in a damage charge.
We will be lighting a communal fire in Kings Meadow and Williams Green if you'd rather not have to manage your own.
In recent years there have been a number of fatalities and injuries in the UK as a result of people bringing BBQs or camping stoves into their tent or caravan and being overcome by carbon monoxide. Please make sure you read these top tips from Gas Safe Register to help keep you safe.
The following BBQ safety advice contains all the essential points to keep in mind when cooking with a BBQ:
Never use a BBQ indoors
Don't take a lit or smouldering BBQ into a tent. Even when you have finished cooking with it a BBQ can still give off fumes that can give you carbon monoxide poisoning. You should always leave it outside if possible.
The cooking area should be well away from residential dwellings and be well ventilated with fresh air.
Be aware of the signs of carbon monoxide poisoning:

Headaches
Nausea
Breathlessness
Dizziness
Collapse
Loss of consciousness

Always use your BBQ in accordance with the operating instructions.
DO THE TENTS HAVE ELECTRICITY ?
Sorry, no, we are not able to provide electricity to the tents.
DOES WORTHY PASTURES SERVE ALCOHOL?
Yes, a fully licensed bar will be available at Goose Hall.
A 'Challenge 21' policy for alcohol sales will be operated. If you look under 21, you will not be served alcohol unless you can prove you are over 18 – by presenting ID. The following are acceptable forms of ID:
UK Driving Licence
Valid Passport
If you don't want to bring your passport or driving licence, use a PASS ID. See http://www.pass-scheme.org.uk/ for details.
Don't forget to drink plenty of water. Free mains-supplied drinking water is available from the taps scattered around the site. Please re-fill your re-usable water bottles regularly.
The dealing in or use of illegal drugs is not condoned. Drug enforcement laws are as applicable as anywhere else in the country. Neither anti-social nor illegal behaviour will be tolerated and participants will leave themselves liable for eviction from the site.
WHAT COVID-19 MEASURES WILL BE IN PLACE?
The Campsite will conform to all relevant HM government COVID legislation and visitors will be required to comply with the Campsite COVID rules and policies which may change depending on the time of visiting.
Please see the Covid-19 policy for up to date information.
CAN I CANCEL OR AMEND MY BOOKING?
Yes, bookings are refundable up to 14 days prior to your stated arrival date, less an admin charge of £25 per tent, after which time bookings are non-refundable.
If within 14 days your scheduled arrival you are no longer able to attend, please contact See Tickets Customer Services . If an alternative date is available, you will be given the chance to change your booking to an alternative date, subject to an administration charge of £25 per tent. Please note that any rescheduled bookings will be strictly non-refundable.
If an alternative date is not available, your booking cannot be refunded, other than under the Refund Promise, which is available to add when making your booking.
WHAT HAPPENS IF I NEED TO CANCEL MY BOOKING LESS THAN 14 DAYS BEFORE MY SCHEDULED ARRIVAL DATE?
Bookings are non-refundable less than 14 days prior to your arrival date, however when booking at Worthy Pastures you will have the option to add TicketPlan Refund Protection, which is a promise that your booking will be refunded in the event that you cannot attend due to certain unforeseen circumstances as set out in the Refund Promise. Refund Protection is subject to an additional charge per tent when making your booking.
Refund Protection provides cover for a range of specified unforeseen circumstances that may prevent you from attending.
Alternatively, you may wish to check whether your stay is covered elsewhere under your own personal insurance.
If you have purchased the Refund Protection for your booking and your reason for not being able to attend is included, you can make your refund application online with TicketPlan.
Please see the Booking page or more information about the Refund Promise.
IF I AM UNABLE TO ATTEND DUE TO COVID19, CAN I CLAIM A REFUND VIA THE REFUND PROMISE ?
The COVID19 situation is complex and constantly evolving and the following guidance is provided should you find yourself in the position of being unable to attend due to COVID19:
If you are displaying symptoms of COVID19, the current advice is to be tested as soon as possible and the following will apply based on your results:

if you test positive for COVID19, you will be able to apply for a refund, provided:

you have purchased TicketPlan Refund Protection
you can evidence your positive result
your required self-isolation period covers the duration of your booking.

if you test negative for COVID19, the normal terms & conditions will apply and you will need to provide documentary evidence which confirms your inability to attend the event, in order for your refund claim to be considered.

Test & Trace and required self-isolation – if you have been ordered to self-isolate by a government department or a health service provider (evidence must be provided) your refund will be considered under the normal terms and conditions.
Unfortunately, TicketPlan is unable to administer refunds where you choose not to attend an event because you are concerned about catching coronavirus, where the event is cancelled, or if you cannot provide suitable documentary evidence. If you require further guidance, please contact TicketPlan with details of your booking and current situation and a member of the team will contact you within two business days.
For more information, please see: https://www.ticketplangroup.com/covid19
I'VE GOT A QUESTION THAT HASN'T BEEN ANSWERED HERE?
Please feel free to contact us on info@worthypastures.com and we'll do our best to assist you